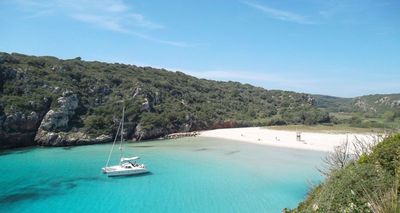 Often written, Menorca is just a summer destination for young families - old story, no longer true. Menorca's reputation is growing as a sunny start to the year and for shaking off those lethargic grey winter days with some sunshine activities. A new destination to you enjoy a favourite outdoor hobby or try something new under sunnier, warmer skies. Menorca now offers more ways to enjoy it's pristine undeveloped coastlines, lush hidden valleys and serene landscapes with outdoor activities while picking up a bit of a tan. Best of all you can still endulge in Menorca's lifestyle with long lunches or sipping drinks by the waterside.
Visually Springtime on Menorca is characterised by surprising greenery, vivid colours under sunny skies, sparkling waters and 'see for miles' views rarely seen during the highs of summer heat. Deep reds of wild italian sainfoin line the roadside of dry stone walled lanes that makeup the mainstay of the island's country road system. The fields will be ripening with the first cereal harvests ( yes it's that mild! ) and pastures full of wild flowers as well as more foals than you can shake a thick stick at.
Getting There
In addition to the weekly flight from Gatwick flights from Birmingham and Luton start at end of March , beginning of April.
Alternatively, it's easy and not too expensive to travel via Barcelona from main UK airports or even to Mallorca where you can pick up a short flight from Palma airport or travel from Alcudia to Ciutadella on the fast ferry.
Vueling and Ryan Air fly between Barcelona and Menorca several times a day in March and April.
Wine and Dine
If all that activity needs a little 'reward' - springtime offers excellent value meals ( as the tourist season prices have not kicked in ), outside tables and terraces simply taking time to relax or review the day's activity or sights with a drink overlooking the sparkling Mediterranean sea.
Binifadet Winery terrace ( close to Es Castell, Sant Llouis ) is a great wind down place , perhaps on the way back from a ride around the idylic villages in this area
Cycling
What better way to work off the winter weight and get your face in the sun again. With rolling rather than steep hills, quiet roads, and many kilometres of rough country tracks, cycling is one of the most enjoyable ways to discover more of Menorca. Mountain Bikes hired for a day or two or organised excursions are a great way to discover Menorca 'hidden' from the beach resorts. Temperatures are mild, often 15 C plus with sunny days.
City cycle hire shops allow you to explore the city around around your hotel or accommodation
Cycling is growing rapidly on Menorca, providing more lanes along the edge of existing roads and exploting the network of (very few cars ) country lanes and original tracks to make this very enjoyable. There is a good network of roads at the eastern end of Menorca . With camis, tracks and new cycles lanes, through lovely countryside passing through idylic villages ( Torret,Pou Nou ,S'Ullestrar,Trebaluger) . Note that outside of town most cycling requires a Mountain Bike. Tip a lovely destination is Cala Sant Esteves where you can visit Fort Malborough and/or anjoy a cooling dip in the idylic inlet there.
Watersports
Natural coastline abounds around Menorca. Little of the 216km coast is developed and their are long stretches with nothing but pure nature.
With plenty of space without the summer boating crowd, spring in Menorca is an ideal time to practice your sailing and windsurfing skills and perhaps take a course
Kayaking
It would be difficult to think of an island more suited to sea kayaking than Menorca. Springtime and early May season means sunshine, glistening waters and lower priced accommodation. Menorca is fast developing into a new destination for experienced Kayak fans who'll love the sun and sea mix. But it's definitely not just for die hard paddlers but great for springtime visitors to add something special to their stay on Menorca. A chance to see the amazing coast up close, reach remote beaches and many coves ( great for rest stops ). Several companies offer two hour, three day or even 10 days around the island excursions with experienced guides and logistical support.
Diving
For diving enthusiasts, Menorca is popular for its fantastic underwater caves and sheltered clear waters, normally reaching a visibility of 50 meters. It's a great place to take an spring break and get your diving qualifications or improve your skills at the same time. S'Algar Diving offers a full range of PADI diving courses (Association of Professional Diving Instructors), from the Discover Scuba Diving, which doesn't require any experience, to more specialised courses including Open Water Diver, Advanced Diver, Emergency and Rescue Diver as well as the Professional Dive Master course.
Horseriding
With its unspoilt countryside, amazing coastline and countless trails, there is a wide variety of terrain to suit riders of all abilities. Trek through beautiful woodlands and idylic rural countryside, perhaps upto one of the many remote beaches to pound through the surf.
There are several stables offering rides of 1 to 2 hours and horse trekking which can last from a morning to several days.
Walks and Walking
Casual walkers and hardened day trekkers will love Menorca's walking pleasures. Walk off long lunches or all day hikes, there is a so much to choose from. Lush hidden valleys, coastal walks to secret coves and turquoise bays not forgetting the nework of tiny country lanes linking villages. In contrast to recent marketing enjoying the varied walks of Menorca does not mean you have to be a signed up member of the ramblers club. Good footwear is vital but T shirts and something to 'put over in case' is the right gear for shorter walks. Hard core walkers are well served with organised guides however getting lost is very hard if you want to strike out on your own.
Declared a UNESCO Biosphere Reserve in 1993, over 40% of Menorca is protected by law. This includes 17 areas of special interest and a nature reserve and ensures their natural beauty is preserved for all to enjoy.
Freedom to enjoy
Menorca is any easy island to drive around with little hectic and short distances which means you can pack a lot in as you choose. Springtime hire car is very reasonable making journeys to/from accommodation easy aswell as very economic. Now you have the freedom to explore all of Menorca.
Early May is the kick off for the main season and backend of spring so more activity companies will be operating from the beach resorts and there will be a more extensive flight program from across the UK
Only time will tell whether Menorca remains tucked away off the tourist track, but for now, it is certainly one of the most unspoilt destinations of the Mediterranean and well worth a spring into a new year.